Now we will talk to you about one of the most reserved routes within all those possible on the Camino de Santiago in general and the Camino Portugues in particular: the route of the Camino from Porto to Tui.
We will give you all the information to complete it and at the same time, we will tell you about the main advantages of making it with Santiago Ways . Please note: We offer a different and spectacular way to enjoy the magic of the Camino Portugues.
Why choose the Camino de Santiago Portugues from Porto to Tui?
Although it is true that each route has its own charm, we want to talk now about what are the main reasons why to make the Camino Portugues from Porto to Tui. Here are some of our reasons but we hope you live it for yourself and add your own.
1.-Its nature: One of the most important attractions of the Camino Portugues is, without a doubt, its nature. Indeed, what this route has in value ahead of other alternatives is clearly its nature.
So then, along the entire route, we will cross beautiful forests, vineyards and imposing coastal landscapes that leave us with an indelible memory. Needless to say, it has the tranquillity and peace that you can breathe along the entire route.
2.-Heritage: Do not forget that the Camino Portugues has a long tradition. This goes back to the Middle Ages and is aligned with the history of our neighbouring country. This means that, in addition to the natural surroundings, the Camino de Santiago from Oporto also offers incentives in the form of buildings, localities and very interesting artistic constructions.
Such is the case of the Chapel of Santa de Franqueira which houses centuries of history in its interior or the city of Oporto.
3.-Gastronomy: This reason is gaining importance especially along the Camino. One of the most important lessons that pilgrims learn on any of their routes is that the food tastes better after a hard stage. The Camino de Santiago from Oporto to Tui has exquisite gastronomy specializing in different local products ranging from cod to all that gives a prodigious selection in quality and variety.
For food lovers, this is another important reason that we cannot overlook to do this route.
4.-Climate: Another reason to encourage us to make the Camino Portugues from Oporto to Tui is its climate. It Is an area of oceanic climate with mild temperatures throughout the year.
Compared with other alternatives such as the Camino Primitivo, the route is pleasant throughout its journey thanks to its proximity to the Ocean.
This advantage is valid for the whole year as we will explain later when we talk about the best time to complete the  Camino de Santiago from Oporto to Tui.
5.-Infrastructure: The Camino Portugues from Oporto to Tu i has an infrastructure that has nothing to envy compared to the Camino Frances. It has good communications, it is well indicated for pilgrims, it is well prepared for those who decide to do it on foot and for those who want to do it by bike and, in general, will be able to find everything necessary for our pilgrimage on our route.
Something very much to consider especially if it is the first time that you do the Camino.
Information about the route of the Camino de Santiago Portugues from Porto to Tui
The Camino de Santiago from Oporto to Tui is the fourth section of the so-called Camino Portugues. It starts its journey in the city of Oporto, one of the most beautiful cities in all of Europe and ends in the city of Tui, which symbolizes the spatial and cultural frontier between Portugal and Spain.
About Oporto, it must be said that it was declared a World Heritage site by UNESCO.
Of the route, as we have said previously, it is necessary to emphasize that it offers us sites of great natural, patrimonial and gastronomic interest. All along 120 unforgettable kilometres.
Route of the Camino Portugues from Porto to Tui
Maps of the Camino de Santiago Portugues from Oporto to Tui
We now offer you maps of the route of the Camino Portugues from Oporto to Tui . We do so that you can have all the information possible and at the same time, that you can get an idea of what the wonderful environments are that you will go through with Santiago Ways.
Porto – Fajozes
Fajozes – Arcos
Arcos – Barcelos
Barcelos – Ponte da Lima
Ponte da Lima – Rubiaes
Rubiaes – Tui
Profiles of the Camino Portugues from Oporto to Tui
At this point, we want to offer you all the information related to the profile of this Camino Portugues from Oporto to Tui . This information has to do with the average altitude of the stages as well as the difficulty that they and the road, in general, can entail.
It Is important to know this information in order to plan our route correctly and to adjust our choice between all possible alternatives and our own preferences.
Oporto – Fajozes
Fajozes – Arcos
Arcos – Barcelos
Barcelos – Ponte da Lima
Ponte da Lima – Rubiaes
Rubiaes – Tui
Stages on foot of the Camino Portugues from Oporto to Tui
We want to detail what are the stages of this route on foot so as to offer you as much information as possible.
Stage from Oporto to Fajozes
Stage from Fajozes to Arcos
Stage from Arcos to Barcelos
Stage from Barcelos to Ponte de Lima
from Ponte de Lima to San Pedro de Rubiães
Stage from San Pedro de Rubiães to Tui
How long does the Camino Portugues from Oporto to Tui take?
As we have said, the Camino Portugues from Oporto has a length of 120 kilometres divided into 8 stages with their corresponding 7 nights. This length is perfect for most holiday times that exist throughout the year. That Is why this route is very popular throughout the year as we will detail later.
Best time to do the Camino Portugues from Porto to Tui
Although It is true that in the background depends on each person's taste when choosing the time that we are most interested in making the Camino de Santiago , it is also true that each period has a number of advantages and disadvantages with respect to others.
That is why we want to talk to you about each season and the advantages and disadvantages they have.
We hope that it will help you to make your decision and we remind you that with Santiago Ways it is possible to do any of the routes on any day of the year and without needing to book in advance.
Spring
One of the drawbacks of spring is that weather instability increases. That means that the risk of precipitation is greater so that in turn we ourselves must increase our planning.
However, one of the advantages that this station has in the specific case of the Camino Portugues from Oporto a is that all natural landscapes will be adorned with the explosion of colours that spring brings.
On the other hand, during this time there is Holy Week: on many occasions, a perfect occasion to make this route by being able to complete itself in 8 days.
Summer
Summer is the most popular season among pilgrims. The temperatures on the Camino Portugues from Porto to Tui are very mild: it is the result of the fact that it is near the Atlantic Ocean and is, in effect, a reason why instead of being in warmer latitudes of the Iberian Peninsula we can take advantage to make this route and stay cool during the summer.
Most pilgrims choose the summer to do the pilgrimage. However, we must say that although this may be an inconvenience due to possible agglomerations, in the event of going with Santiago Ways there will be no problems.
Autumn
Autumn brings back instability in the climate. Rainfall can increase, so we should go with adequate clothing adapted for any unforeseen weather that may arise. So, it should be said in favour that in autumn the whole area of the Camino Portugues from Porto to Tui is tinged with beautiful colours because all of it has deciduous vegetation.
Winter
This season we could say is for the bravest. In the case of the Camino de Santiago Portugues from Oporto  the temperature is mild because it is a zone of oceanic climate. In other routes such as the Camino Primitivo this can be an inconvenience. In spite of this,
Christmas is an excellent time to make this route because of the beauty of the environment, the special charm that it has in those dates and, at the same time, the opportunity that the free time during these festivities gives us.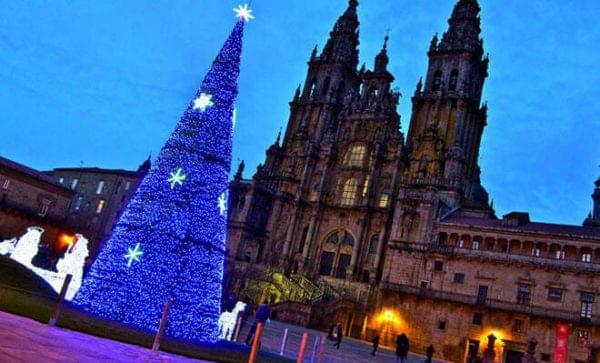 Guide to the places you cannot miss on the Camino de Santiago Portugues from Oporto to Tui
We now propose a series of places that you cannot miss on the Camino de Santiago from Oporto to Tui . Among them, we will not only include some emblematic places and of patrimonial and natural interest but also the best restaurants and the best lodgings: those that we offer you from Santiago Ways.
Points of Interest
First, we will talk about some places of patrimonial and artistic interest that you cannot miss along your pilgrimage on the Camino de Portugues from Oporto to Tui.
Dom Zameiro Bridge
This bridge is one of the obligatory visits throughout our pilgrimage. In addition to having to go over it, it is an idyllic location from which to enjoy all the beauty of the surrounding environment.
Barcelos
In the district of Braga, one of the most beautiful regions of Portugal is this town of incomparable beauty. Its Baroque Garden is a must-see and at the same time, we recommend you to simply walk around and see its historical heritage.
Fortaleza de Viana y Tui
It is also worthwhile to divert from Tui to visit this monumental historical complex of great strategic importance in another time. It Is one of the most memorable points of the route and without a doubt one of the major points of interest not only of this pilgrimage from Oporto a Tui but all of Portugal in general.
Where to sleep – The best hotels
From Santiago Ways we offer you the best accommodation throughout the route. These are designed to meet all the attention you deserve and ensure the best rest possible.








Where to eat – The best restaurants
We also offer you the most advisable places to eat throughout your pilgrimage. They are obligatory stops for all those who consider themselves lovers of gastronomy.
Casa Dos Arcos
In the beautiful city of Barcelos, we find this establishment specializing in home and family cooking that will delight all visitors specialising in garden products and cod, naturally.
Restaurante Boa Posta
Located in Fajozes, this restaurant is very affordable and offers a good service to pilgrims. It is a stop that will help us to re-energise ourselves in the middle of our stage.
Tapería O Albergue
This cosy location is located in our city of arrival, Tui. It offers us the best of the gastronomy in the Braga region and it is a point that we cannot lose sight of during our pilgrimage.
Origin of the Camino de Santiago Portugues from Porto to Tui
The origin of the Camino Portugues from Oporto shares roots with the Camino de Santiago a in general. In particular, it is a route that did not begin its itinerary until the Middle Ages. And when the reconquest was advancing, new routes were opened as the new Christian kingdoms were renewed.
So it happened with the Kingdom of Portugal that since the Early Middle Ages saw the birth of this route whose path followed that of the old Roman roads.
The Camino Portugues from Porto with Santiago Ways
Ideal footwear for the Camino de Santiago Portuguese from Porto
Other sections of the Camino de Santiago Portuguese
Other sections of the Camino Portuguese coastal route
Other users' opinions about the Camino Portugues from Oporto to Tui
At the same time, we want to offer you the opinion of other people who have already done this route of the Camino Portugues with us. So that if you have any doubt you can spur yourself on through the voice of others.
Excellent company. They were super helpful in putting together my last minute trip to do the camino inglés. I will definitely use them next year when I do another route. Thank you SantiagoWays!
Fabulous experience. Santiago Ways made this trip such a memorable trip. I will definitely be using their amazing service again for the next 200 km. The accommodations were super. The transfers and itinerary were perfect . Thanks Ylenia ans everyone at Santiago Ways!
Very good service. Ylenia Conesa was the one who helped me and she was always very effective and courteous. Will definitely use them again!
My husband and I hiked the Camino De Santiago from Pamplona to Logroño. We used Santiago Ways to help plan our adventure... booking our hotels, breakfast, picnic and dinner as well as transferring luggage during the hike. It was extremely helpful because we traveled in February which is not a popular time and all services are not available. The communication and service was excellent. Before, after and during the hike Angie Rinaudo kept in contact and answered all our questions in a timely manner. All the accommodations were excellent. We are planning to do more sections in the future and will definitely use Santiago Ways again.
We took the French Way, Leaving from Saint Jean Pied de Port. Santiago Ways booked our rooms the entire trip and make sure our luggage was transported. The rooms were a delight the walk was wonderful. Santiago Ways made sure to have support for us on the trip as well as needed. I would highly recommend this company. The entire group was a delight to work with and Cristiana on it especially was helpful.If we should decide to do another way, we would definitely use this company.
This was our first time in Spain and first time walking on a daily basis. Santiago Ways answered our many questions and concerns over many emails. We started our walk September 1st 2019 in Sarria and took 10 days to walk to Santiago de Compostela. Santiago Ways booked our lodging in 10 different places along with luggage transfers. We asked that all breakfasts,dinner and picnic lunch be included. Our accommodations varied from Albergues. Inns, Boutique hotel, to Bed and Breakfast. We truly enjoyed our picnic lunch as we could stop anywhere and enjoy the view. The accommodations - private room and private bathroom as we requested were not disappointing. We would recommend Santiago Way to anyone that needs some assistance in walking The Way.
I changed my itinerary about 10 times before finalizing my vacation, 2 weeks prior to my trip date. Santiago Ways (Sara Mateo) was so polite and understanding throughout the entire process. My wife and I loved our great 2 week walk on the Camino. Every reservation, baggage transfer, excursion and transportation worked out exactly as planned. Thank you Sara for our memorable vacation.
This is a very professional company that helped create a fantastic journey. My contact person, Ylenia, responded to my emails and answered my questions. I highly recommend this company.
I have walked with Santiago Ways twice and have been impressed by their professionalism and services both times. I wanted to support a Spanish company for the walks, and found them to be a competitive option - in a crowded industry. Am planning to walk with them again as I've enjoyed my caminos so much!
I changed my itinerary about 10 times before finalizing my vacation, 2 weeks prior to my trip date. Santiago Ways (Sara Mateo) was so polite and understanding throughout the entire process. My wife and I loved our great 2 week walk on the Camino. Every reservation, baggage transfer, excursion and transportation worked out exactly as planned. Thank you Sara for our memorable vacation.
I changed my itinerary about 10 times before finalizing my vacation, 2 weeks prior to my trip date. Santiago Ways (Sara Mateo) was so polite and understanding throughout the entire process. My wife and I loved our great 2 week walk on the Camino. Every reservation, baggage transfer, excursion and transportation worked out exactly as planned. Thank you Sara for our memorable vacation.
We recently walked part of the Camino de Santiago Trail. Our trip was arranged by Santiago Ways. We were part of a larger group we had a tour guide and our luggage was transferred each day. Our trip was an immense success, everything went very smoothly and that in part was down to Veronica who arranged the trip. She was very helpful throughout the whole planning procedure even arranging for a private transfer from the airport to Sarria, our start point. I would recommend Santiago Ways and Veronica and would definitely use them again.
After comparing several agencies, our group of 7 decided to go with Santiago Ways for our first Camino experience as they offered an all round better price for our customised package that included insurance, meals, accommodation, luggage transfers and any required transportation to accommodation. The booking process was straightforward, they responded quickly to various enquiries and changes that we requested and they provided guidance on preparation and the Camino route which we referred to throughout our trip.We had a couple of issues including one of our group injuring her ankle but Santiago Ways were available 24 x 7 and they resolved everything efficiently including all communications required with local accommodation providers, taxis etc. which was very reassuring. Pilgrims we met who organised their accommodation en route had to deal with lack of accommodation in some locations and then they had to organise transport to and from the nearest hostels. We didn't have any stress like this at all which left us free to enjoy the stunning scenery and great camaraderie on this wonderful trip. We will use Santiago Ways again and we can highly recommend them.
I booked my Camino de Santiago for Sept 2019 through Santiago Ways and the company made the experience absolutely wonderful. Vanessa Veiga was a pleasure to deal with, very professional and informative and made it very easy to arrange the entire trip. The accommodations and board booked through Santiago ways were amazing, we were very pleased with the diversity (B&B, hotel, hostel) of the accommodations along with the service and cleanliness of the accommodations. The luggage transfer worked flawlessly. I would rate Santiago Ways 10 out of 10 and recommend them to anyone looking to book their Camino.
I was so pleased with the trip Santiago Ways set up for me to Walk The Camino Francés. My first experience was when I requested a quote in October 2018 for a August 2019 walk. Ylenia went above and beyond to answer all our questions and to provide numerous options for me before I made my final decision on the trip. She was patient and thorough as I gathered information. Her follow up was amazing and her attention to detail was very assuring! Once I booked the trip she continued sending updates until we departed for Spain. Once we arrived in Spain Ylenia and the Operations team stayed in touch via email to answer any questions. The hotel accommodations for 39 days were all wonderful and the baggage transfer was perfect. Every day our bags were at the hotel by the time we arrived. One day my friend left her hat in the hotel room and Santiago Ways Operation team sent an email saying the hat would be waiting at our next hotel. That's going "above and beyond". I highly recommend using Santiago Ways for your Camino!!!!! We walked with numerous people who had used other companies and they all thought Santiago Ways had the best hotels. I've already referred a friend to them and definitely will use them for my next Camino. Thank you Santiago Ways!!!!!!!!
Ylenia Conesa from Santiago Ways was very helpful answering all my question prior to my Camino trip. A truly memorable experience beautifully organised by Santiago Ways
This was a great experience from start to finish. From the on-line booking team that answered my numerous questions and comminucated with me in an efficient and friendly manner to the amazing guide we had and the quality of the hotels we stayed in. It all exceeded my expectations
Excellent company with excellent staff, couldn't fault their organisation and execution of my Camino walk. My special thanks to Ylenia who looked after my bookings and organised things for me.
Fantastic service and Ylenia Conesa who handled the booking was a delight and very efficient
Santiago Ways, and our advisor Ylenia Conesa , provided an outstanding travel experience! Ylenia answered every question that I had during my trip planning process! The accommodations were absolutely charming, and the food was perfect! Thank you for the experience of a lifetime!
Celebrating 60th birthday, we walked 100 kilos for 10 days. No pain and no blisters. Santiago ways transported our luggage on time every day even we changed one of the hotel to Paradores. Taxis were always on time waiting for us. All hotels were clean, friendly and conveniently located. The food and buildings and history of each accommodations were all unique and wonderful! I will use Santiago ways for my next Camino. Andriana was very helpful. Thank you! Muchas Gracias!
We booked our "Camino" trip via this agency. Our agent was Vanessa and we are ecstatic with the service! The booking went very smoothly. All our questions were answered and all our wished addressed in a very quick manner. Actually, the agency had to ping us a few times via email and WhatsApp, as we were the ones too slow to answer them. They even made arrangements for us to take our dog on the trip and book the appropriate hotels. The luggage transfer was wonderful. We had a pickup from Santiago to our starting point on "Camino" that also worked perfectly. We can highly recommend the services of this agency. I have to admit that I have not compared prices and if there is something cheaper on the market, but the service we received here was impeccable. We had a wonderful trip and are planing to come back next year and walk another "Camino" again. Buen Camino everyone!
Walking the Camino was the best experience of my life! Partially because I had such a great support crew of Santiago Ways! I worked with Vanessa Veiga who organized my trip to suit my needs. When some details needed to be changed, she kindly worked with me to make it happen. My accommodations were all very different- from Casa Rurals to hostels to Pensions, but they were all excellent. The luggage transfer worked perfectly, too. I highly recommend this company to anyone planning to walk the Camino!
excellent experience with Santiago way team, all that was promised accomplished to the last detail , the transportation, the hotels choices , the path segment choice, the information provided ,the luggage transfer just a perfect vacation
Santiago Ways is the perfect agency to help you plan you Camino de Santiago.Since the first day that i wrote my email the response was very fast, gladly i began speaking to the agent Vanessa Viega and she made sure i had all the information and helped me plan everything, she was really great .i really enjoyed my Camino, i was looking forward for it and it did satisfied my expectations.This experience for me was the most special in my life, i am really thinking about doing it again starting in Portugal
I used Santiago Ways on my first Camino in March this year. The trail that I did was from Vigo to Santiago de Compostela. The experience was truly fantastic ….. mainly because of Santiago Ways.My contact person at Santiago Ways was Vanessa Veiga. Right from the onset Vanessa was extremely helpful , sensitive and very attentive to all my requests. She responded swiftly to all my mails. She selected the right hotels which were excellent and the luggage always arrived on time.I am planning my second Camino next April and I would continue to use Santiago Ways and in particular Vanessa. Thanks a million Vanessa and continue the good work to all the pilgrims who want to experience a true Camino.Winston FernandezKuala Lumpur, Malaysia
Santiago Ways made it possible for me to do the pilgrimage. At 69 I did not like the idea of staying in a hostal, I like a bit of privacy and comfort! And I could not have done the walking while carrying my luggage. Adriana at Santiago Ways helped me work out my route and booked hotels and luggage transfers. Also, having them there in case I had any problems, was very reassuring. Adriana was only a phone call away. I recommend using Santiago Ways for anyone having doubts about doing the pilgrimage - they make it so much easier!
Vanessa was awesome and we loved Santiago Ways! We had a group of 8 college friends that were all around 50-years old. The deciding factor in choosing Santiago Ways was the group discount offered for groups of 6 or more. All other companies threshold for a discount was 10 people. Vanessa and the staff were awesome to work with throughout the process. We did the five day hike from Sarria to Santiago. We requested superior accommodations in places that were on the trail. The accommodations were top notch and 4 of the 5 places were directly on the trail. The exception was our night in Lavacolla in which we were .4 miles off the trail. It was our choice to stay in that location in order to have a shorter walk to Santiago on our final day so we could make the noon mass. We were pleasantly surprised at how clean each place was and they all had great bar and restaurant choices in close proximity - with the exception of Lavacolla so we recommend eating on-site - it was very good.
We had an excellent experience on the Camino with Santiago Ways. We had 14 women and everything was wonderful. We enjoyed the hotels, loved the daily luggage transport and the food was terrific. Santiago Ways communicated throughout our trip. We felt well-supported when we needed to make changes. Thank you!!
Santiago Ways is excellent they exceeded my expectations!! they do a great JOB and we had a "Buen Camino" in part thanks to them... lovely hotels.. flawless bag transfers and great great service!!! I would totally recommend them and please look for Vanessa she is the best.
My family and I used Santiago Ways to organize our recent pilgrimage from Lisbon to Porto. They did an excellent job booking us (as much as possible) into wonderful, small, family-run hotels and coping with the many changes dictated by "group" travel. In addition, one of us was traveling by bicycle whilst the rest were walking, necessitating even more planning which Santiago Ways did with patience and grace. We recommend using Santiago Ways for Camino support and planning!!! Jan Schubert
My family and I (6 of us) just finished walking the Lisbon to Porto section of the Camino Portuguese. It was a wonderful experience for us. The hotels we were booked into were well chosen and the food was great. We also found the path to be well marked making way finding fairly easy. A great relief as we had heard it was not well marked. Our luggage was efficiently transferred each day and everything ran very smoothly. Thank you Santiago Ways! We would definitely recommend your services to our friends. Jill
Santiago Ways made my memorable hike trouble-free. I had excellent hotels, tasty breakfasts, dependable baggage forwarding, informative advance information, and a dependable drive to deliver me to Sarria. I really appreciate their attention to detail!
We booked our El Camino with Santiago Ways and we were very lucky to have Silvia as our agent. She did a fantastic job organizing our trip, always promptly responding to our inquiries, impeccable English, all accommodations that she arranged for us were great, and our luggage was always delivered to the next location timely, before our arrivals to sites. I would definitely recommend Santiago Ways and ask for Silvia to be your representative.
This trip changed my life in ways I could not describe! I knew the hiking was going to be a challenge, but Santiago Ways made it so easy to plan and execute. They are truly the best and I am already planning my next trip with Santiago Ways and would not think of going anywhere else. Silvia Rivera was particularly helpful in the planning, as she answered all my questions patiently, and help me through the process. Great job, Guys, and I will see you next year!

Have just finished El Camino de Santiago from Sarria with the help of Santiago Ways. They have been extremely accesible from day one. The transfer of the luggage throught the five days was impecable, always finding the luggage in the room on every stage of the way. The food and lodging was very acceptable. If I were to do it again I would not hesitate to contact them once more for their assistance! "Buen camino".
Our experience with Santiago Ways was flawless. We highly recommend this outfit for your Santiago way experience. A perfect 10!

Very nice experience. Good and professional organization.Nice and friendly environment during the event. Recommended 100 %. Saludos para Jose 😉
Simply put - an incredible experience! This agency looks after every last detail. I walked the last 100 km of the Camino with their help and I definitely want to go back soon and do a longer part of the route. When that happens (which I hope is soon) I'll definitely be using Santiago Ways again! Thanks for everything.
Next Reviews
Photos and videos of the Camino Portugues from Porto to Tui
We leave some pictures and videos of the Camino Portugués de Oporto a Tui here to give you an idea of what awaits you.
The Camino de Santiago with Santiago Ways
Other Caminos de Santiago
Here you can see all the stages of the Camino de Santiago. In Santiago Ways, we will advise you on which route of the Camino de Santiago is the best fit for you.
Other ways to complete The Camino de Santiago
The quietest Caminos de Santiago